The Armchair Art Fair – Autumn 2023
We are delighted to let you all know that once again we have teamed up with other galleries to create this special event that you can enjoy at home. Michael, Phil and I are hoping that you will be browsing pages 118-127 that feature The Hunt Gallery. Please contact me if anything interests you. Click this link to view the catalogue online: https://issuu.com/jammdesign/docs/aaf-autumn23?fr=sZDk0OTY0MTUwMjY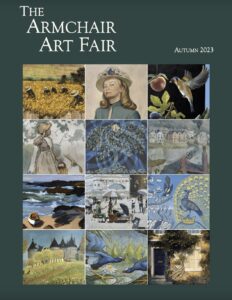 About The Armchair Art Fair:
Once again, here is another incredible array of artworks on sale from dealers with years of expertise and knowledge of their chosen genres. The extraordinary diversity of art on offer spans such styles, periods, and specialist subject. As French Naif paintings, 18th/19th century watercolours, art deco, modern British, Oxford and cambridge, sporting, maritime and wildlife…the list goes on. Why, you may ask, is it such a good idea to purchase art from such a dealer? Our participants have many years of experience and have built up a profound knowledge of their particular areas of specialism, their works of art and artists. As Derek Newman has commented, "Those of our exhibiting our stock here have cultivated relationships over time across the art world, our customer, collectors and other dealers providing access to all sorts of private sources of artworks, many of which haven't been on the open market before" Also important, where applicable our professional relationships with major artists, as an example, for many years, John Iddon was great friends with Mary Fedden, and has a vast amount of knowledge about her and her work and the inspiration behind them. Luckily for us as well as their expertise, most dealers have the Instincts of a keen collector, and get a. huge amount of pleasure from the act of buying and selling. As Julian Hartnoll says " once bought it is my picture and always be even if it is now hanging in the Tate (five at the last count)" Of course they have to resist temptation to purchase pictures or works of Art for themselves, sometimes frustratingly. Julian added "If I had kept one great picture – Lempicka's auto portrait or indeed any of the great Burne Jones's that I have owned, I would be a rich man now. I would be enjoying the Armchair Art Fair as a reader not a dealer!" C'est La vie. We do hope you're tempted by all of the fine treasures in this years Armchair Art Fair.
The Work of Michael John Hunt
Michael John Hunt is an artist with a passion for capturing the essence
of life in his paintings. His work, which can be found at the Hunt Gallery,
is a celebration of the beauty and complexity of the world around us.
Each brush stroke and color choice tells a story, evoking deep emotions
in the viewer.

Michael Hunt's paintings are a testament to his ability to capture the
majesty of nature and the human spirit. From traditional interiors and
rolling landscapes to bustling cityscapes, he paints with a keen eye for
detail, making each scene come to life before our very eyes. His use of
light and shadow creates a sense of depth and movement, making the
paintings seem to dance before our eyes.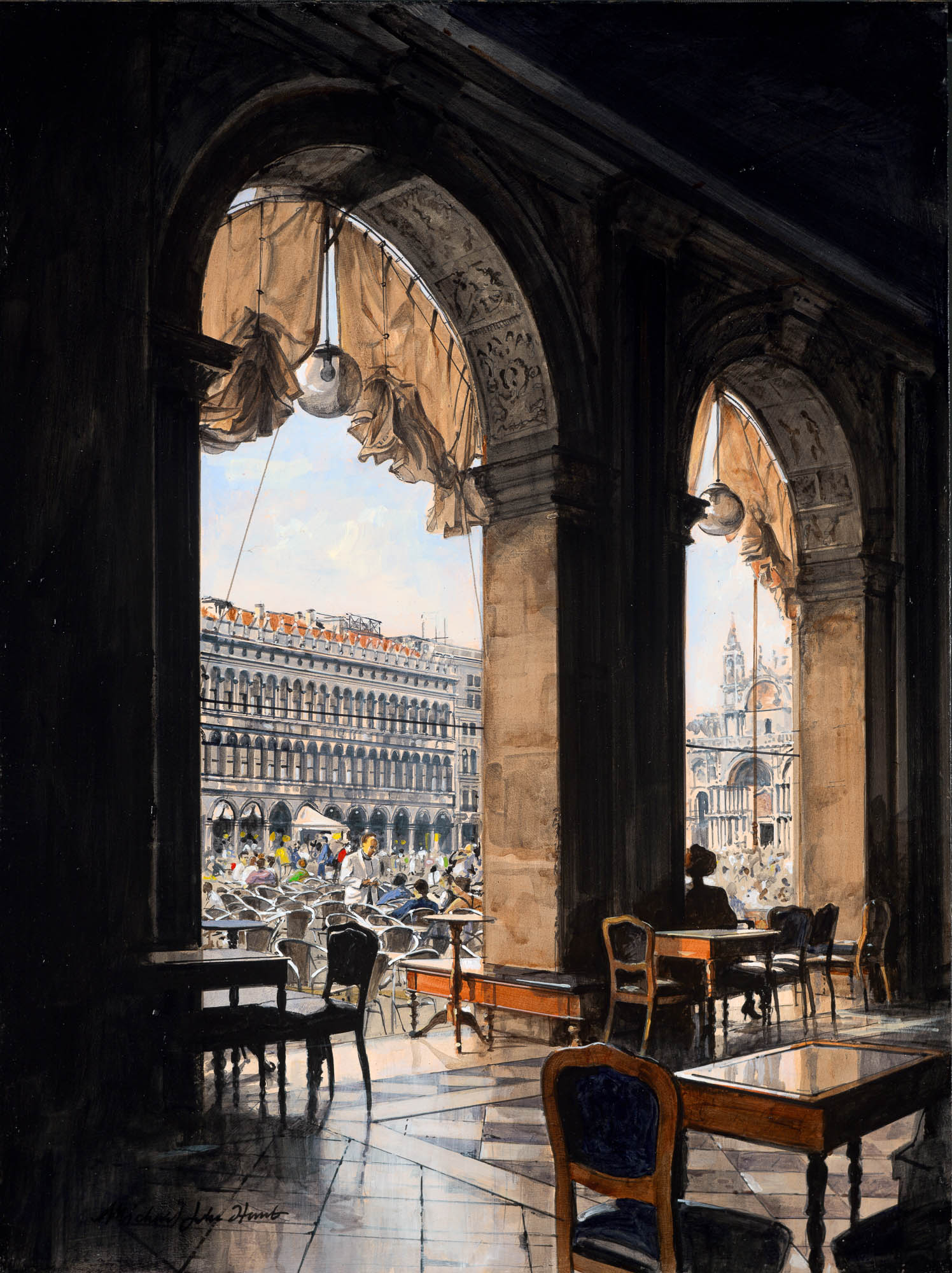 But it's not just his technical skill that sets Michael Hunt's work apart. He
imbues each piece with a deep sense of emotion, whether it's the
serenity of a sunset over the countryside or the energy of a bustling
street market. He understands the power of color, using it to create
moods that range from peaceful to chaotic, from joyful to thoughtful.

The subjects of Michael's paintings are not just objects or places, but
experiences that the viewer can relate to. Whether it's the memory of a
childhood summer day or the feeling of freedom that comes with a road
trip, his work speaks to something within us all. Each painting invites the
viewer to pause, to reflect, and to feel.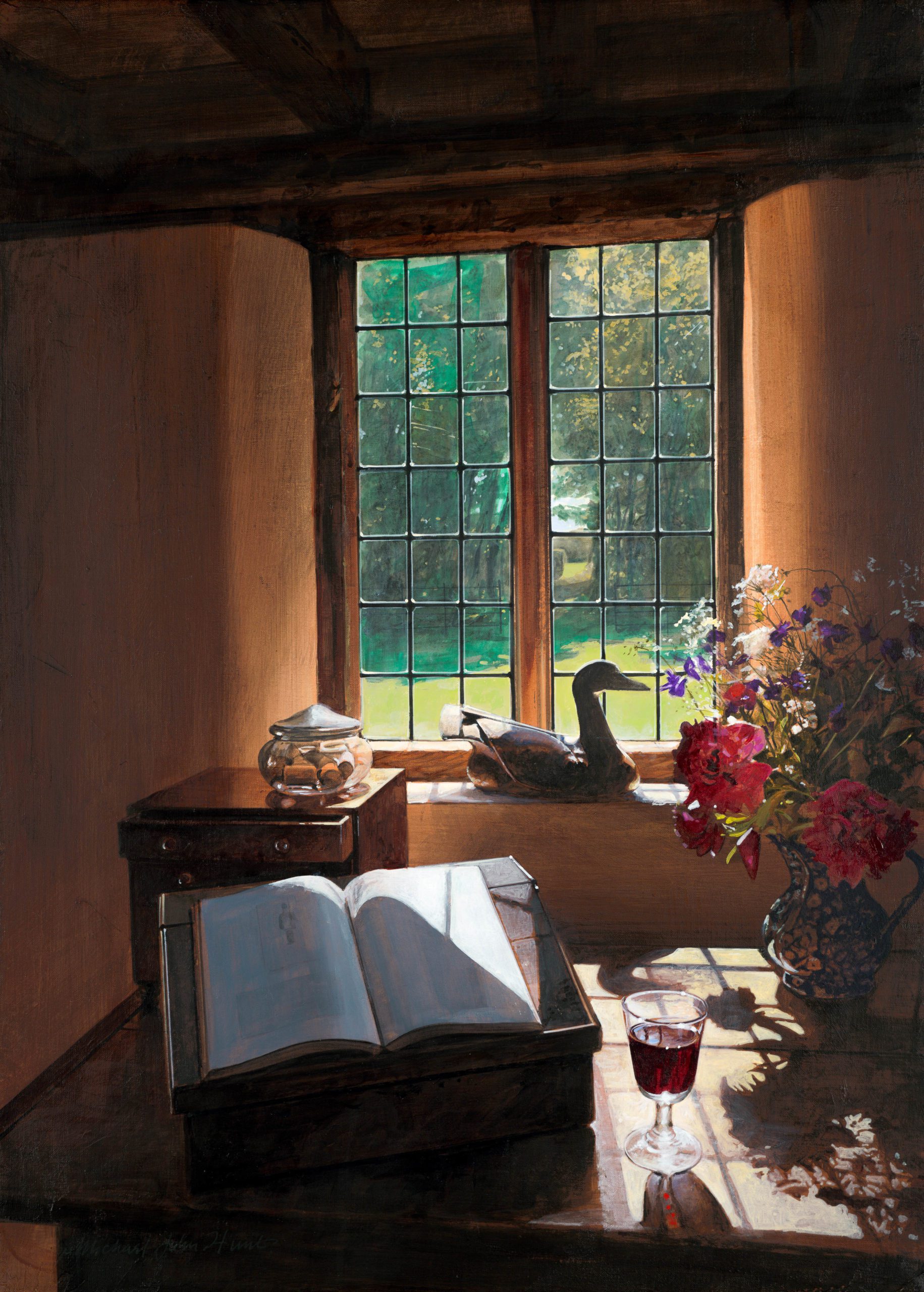 The paintings are a reminder that art has the power to connect us, to
make us feel, and to inspire us. They are a celebration of life and a
testament to the beauty of our world. Whether you are an art aficionado
or a newcomer to the world of painting, a visit to the Hunt Gallery in
Sandwich is sure to be an experience.

Michael John Hunt's paintings are more than just art, they are a window
into the human experience. They are a reminder that even in the midst
of chaos, there is beauty to be found, and that the world is a place full of
wonder and possibility. The Hunt Gallery is truly a must-visit for anyone
seeking to be moved and inspired by the power of art.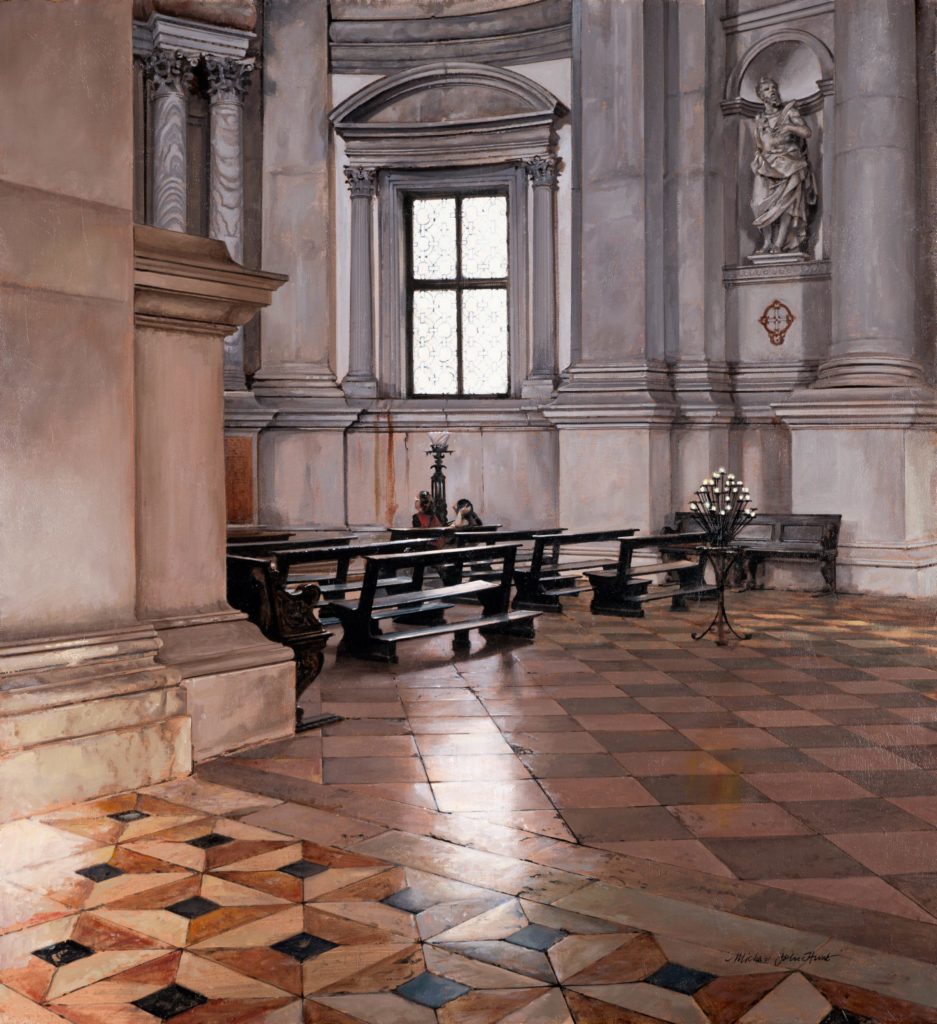 Our Prints… What is a Giclèe Print?
The word Giclèe comes from the French verb gicler meaning "spray" or… possibly "nozzle" … or maybe something else!  There seem to be quite a few opinions on the subject!
Artists have traditionally used processes such as offset lithography or screen printing to reproduce fine art as prints. These and other photomechanical processes require an awful lot of work to set up, very large presses and a lot of time so, large numbers of prints had to be produced to make the work worthwhile. Giclèe printing has revolutionised the printing process for artists and collectors in terms of both the reprographic process and the quality and consistency of reproduction.
We've always been a little wary of having prints of Michael's work produced for us in the past. It was always very difficult to get prints produced to an exacting standard that did justice to be original paintings, that managed to capture the depth and richness of the colours and subtle details. New imaging and scanning technology and the Giclèe printing process has allowed us to take the whole process "in house" so we can ensure each print is as true to the original painting as possible.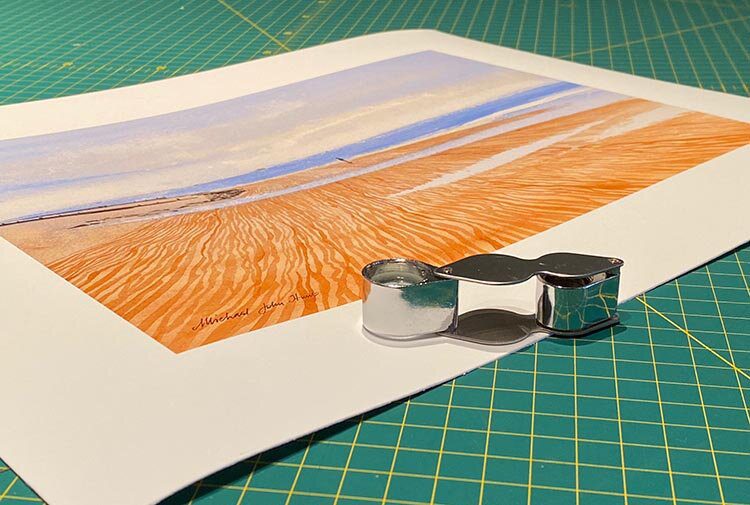 A Bit more detail on our process…
The first part of the process is to scan the artwork. We use a very high resolution, large format "scan back" specifically designed for fine art reproduction (and used by many leading museums and art collections around the world!) and specially set up lighting. This captures every minute detail of the original painting with outstanding clarity. To give you an idea of the amount of detail captured, a "professional" Digital SLR camera might typically have a maximum resolution of around 30 Megapixels. Our scanner has a resolution of 216 Megapixels.
This image file is transferred directly to a computer to be checked against the original on a colour calibrated monitor (it all gets rather technical!). Once the scanned image meets approval, its ready for printing!

We use a special, high definition large format Inkjet printer designed for fine art reproduction. This is where that French verb "Gicler" comes in! The printer has a twelve colour print head that "sprays" microscopic dots of pigment based ink onto the printing substrate (more on Inks and substrates in a moment!). The twelve colour print head is capable of producing an incredibly wide tonal range and colour gamut in pin sharp detail. Because it is a "spray" the printer is also ideal not only for smooth surfaces like papers but also those with a little texture, like canvas.
Ink, paper and canvas… and what does "Archival" mean?
That's a good question! You will often hear the term "Archival quality", really, it's a non-technical term used to describe materials and practices that are stable and durable. For the longevity of any print, the two main things (probably!) to worry about are light (specifically UV light) and acid in the materials used to produce the print.
The paper and canvas we use for your prints is made by Hahnemuhle and both are certified acid free museum quality. We've tried dozens and dozens of different papers and canvases over the years but, for us, none match the quality of the Hahnemuhle Photorag paper and Hahnemuhle Art Canvas.
The inks we use are all genuine Epson Ultrachrome HDX pigment inks. Being a "pigment ink" is quite important! These are inks which are composed of coloured particles held in a suspension, rather than dye based ink, which is just a colourant dissolved in a liquid. This means that pigment inks give much, much better quality of colour and a much, much longer lifespan!
Using the very best materials is only half of the answer however.It's also critical that the work in producing the finished print is done in an "archival manner" as well.There isn't much point using the best quality ISO Certified acid free paper to print on if its covered with finger prints!This is why "archival quality" is a bit of a broad term.It covers every part of the printmaking process – from materials to handling practices.It's another reason we produce all of our prints ourselves from beginning to end – to make absolutely sure our prints meet our exacting standards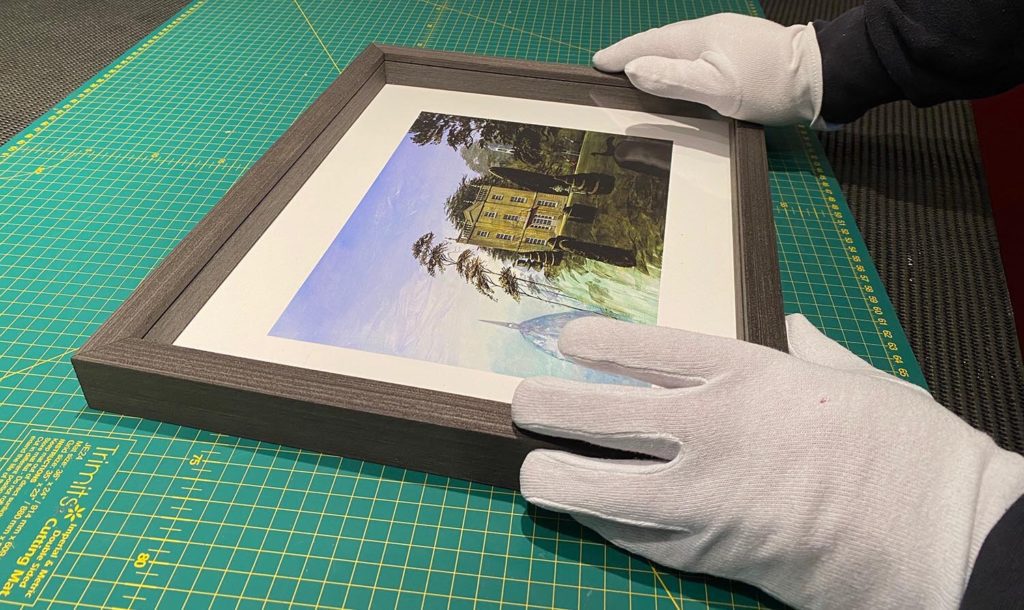 Paper Prints
Our paper prints are first "dry mounted" onto a foam core board for rigidity – with a nice wide border all around the image.
Our standard framing style for these prints uses a deep, glazed box picture frame. A wooden spacer with the same finish as the frame used to separate the print from the glazing – affording the print the most protection possible.
Glazing
For safety during postage, all of our framed prints are glazed with UV protective art acrylic as it is much lighter and more durable than glass – much more likely to survive the tender mercy of couriers!
We can also offer UV-protective and anti-reflective glass by request. If you would prefer this option, call us on 01304 612792 or email info@thehuntgallery.com to discuss.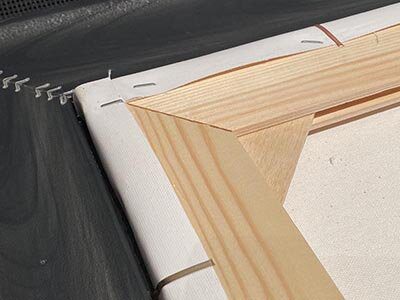 Canvas
All of our canvas prints are first stretched onto a wooden backing frame of stretcher bars.
Our canvas prints are framed in a traditional box frame – the stretched canvas fitted into a recess called a rebate on the back of the frame and secured in place.
We've chosen frames for each print that we feel best compliment the individual picture. If you would prefer a something different, just let us know and we can have a chat about the different options available. You can also buy any canvas prints "unstretched" that you can take to your picture framer.
The Armchair Art Fair Autumn/Winter
We are very pleased to let you all know that once again we have teamed up with other galleries to create this special event that you can enjoy at home. Michael, Phil and I are hoping that you will be browsing pages 28-37 that feature The Hunt Gallery. Please contact me if anything interests you. Click this link to view the catalogue online – https://issuu.com/jammdesign/docs/aaf-003_fullproof_01?fr=sNDg2ODMzNDQ0OU
We are exhibiting at The Games Fair from the 29th – 31st of July at the LAPADA Pavilion at Ragley Hall. With this in mind, we are delighted to have been featured within this spring edition of The Games Fair magazine.

Learn how Michael came to be the respected English figurative painter he is today and why he is so interested in history…
'He Depicts Rooms As We Think We Experience Them, But He Provides Much More Information Than We Could Ever Absorb In A Glance'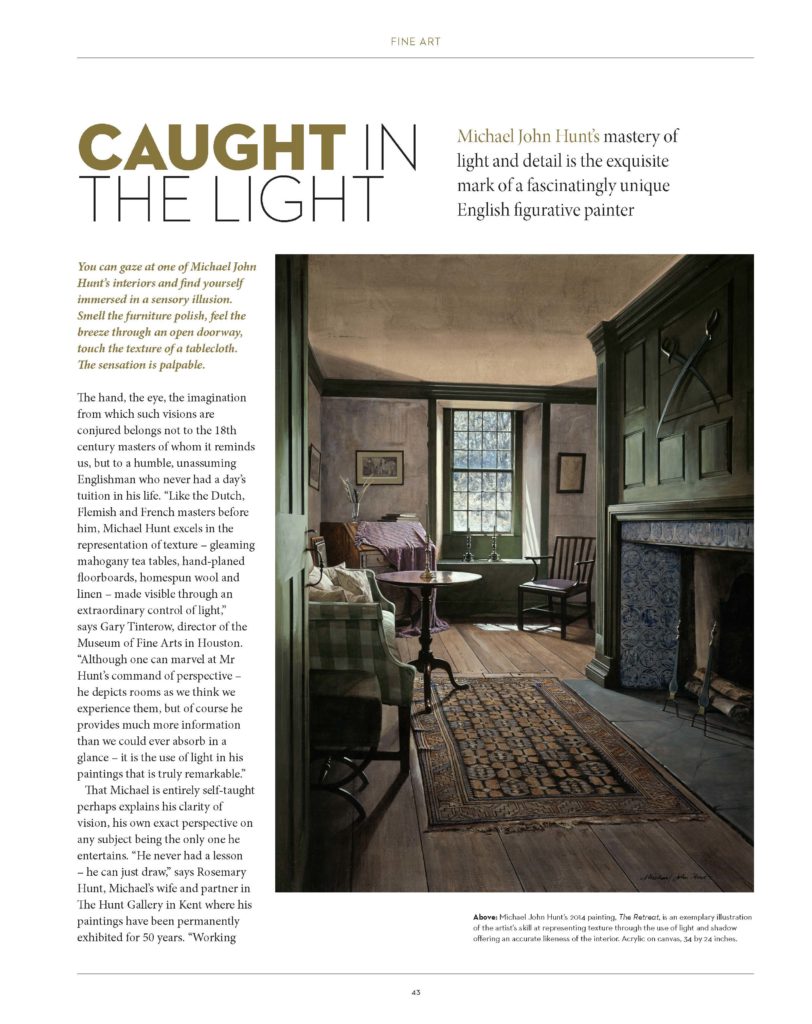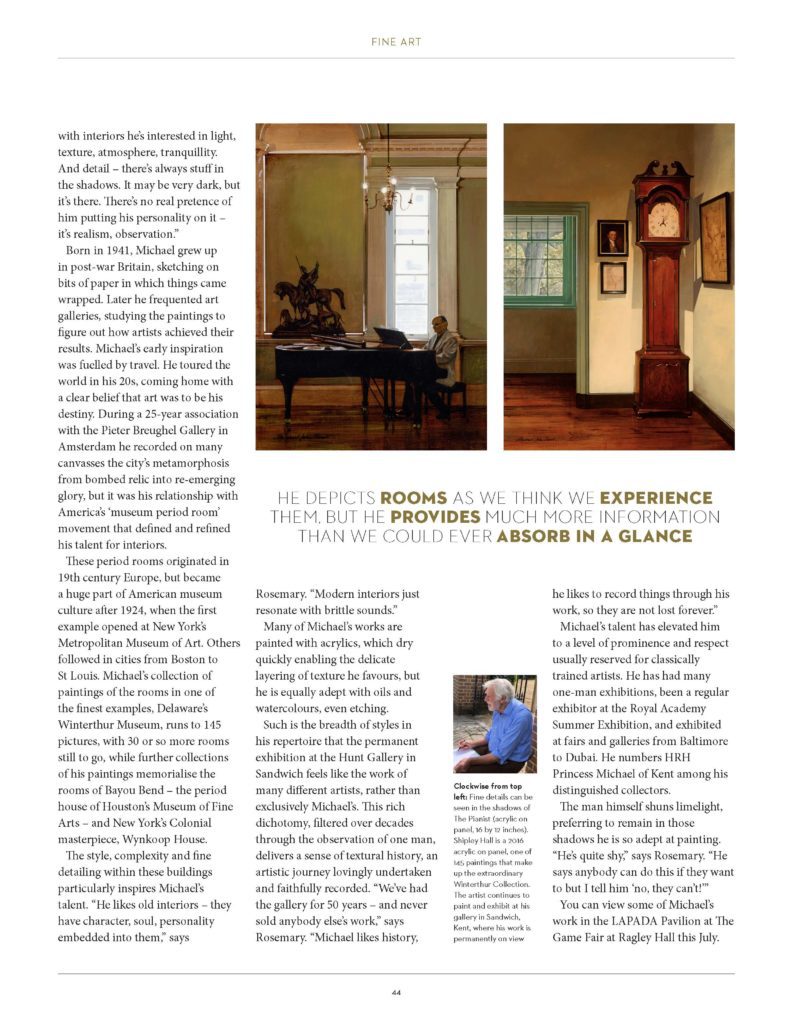 As this is the first Newsletter of 2022, I hope I'm not too late to wish you all a Happy New Year. We have a busy few months ahead of us and as our planned exhibitions are in the spring and summer, we are hopeful of meeting you somewhere along the way.
Our first exhibition is the Winter Armchair Art Fair and we are very pleased to let you all know that once again we have teamed up with other galleries to create this special event that you can enjoy at home. It is live on our website and Michael, Phil and I are hoping that you will be browsing pages 96-105 that feature The Hunt Gallery. Please contact me if anything takes your fancy.. Or click this link to view the catalogue online https://issuu.com/jammdesign/docs/aaf-003_fullproof_01?fr=sNDg2ODMzNDQ0OTU
March 23rd – 27th will once again see us in The Old Town Hall, Chelsea, London, showing Michael's latest paintings. We had such a good time last September that we are looking forward to being there again. The quality of the exhibition was outstanding and if you didn't see it then, I highly recommend it.
Download Tickets Here
If you look at the Events page on our website, you will see that we will be returning to Petworth Park in May, Olympia in June and the LAPADA Pavilion at the Game Fair at the end of July.
Let's all look forward to spring,
Best,
Rosermary
NEWSLETTER: We have two exciting pieces of information to impart in this newsletter.
Click Here to View
The Hunt Gallery Prints
We now have a new range of contemporary landscapes, wildlife, whimsy and architectural prints available on our new print website:
Paintings of Bayou Bend's Interiors
Twenty-two paintings by English artist Michael John Hunt featuring Bayou Bend's historic interiors are on view at the Lora Jean Kilroy Visitor and Education Center. Created over two years, the paintings are meticulously detailed architectural portraits, striking for their intuitive understanding of perspective and evocative use of texture and natural light.
Twelve of the paintings are included in a limited-edition series of signed and numbered prints, available at The Shop at Bayou Bend. Also available is an elegantly designed, oversized book, limited to 1,000 copies, that illustrates the Bayou Bend paintings in rich colors.
Michael John Hunt Show at Bayou Bend
The Prints
Exclusive Limited-Edition Prints of Bayou Bend Interiors
A set of 12 limited-edition, fine-art prints that exquisitely capture Bayou Bend's elegant interiors are available at The Shop at Bayou Bend. The prints are reproductions of original paintings by English artist Michael John Hunt. Each interior is a meticulously detailed architectural portrait, striking for the evocative use of natural light. The 12 views are now complete, available for purchase at The Shop.
Details
$250 each | $3,000 for the set of 12
Printed in England by the Hunt Gallery
Limited to 150 copies of each view
Most views approximately 16″ x 23″ paper size
Hand-signed and numbered by the artist
Accompanied by a Certificate of Authenticity
The Book
Michael John Hunt: Historic Rooms of Bayou Bend
Published by The Hunt Gallery, September 2014
Hardcover, 64 pages
Color, fully illustrated, 13 ¼" x 10″
Edition of 1,000
$39.95
The book features all 22 views that the artist Michael John Hunt painted of Bayou Bend's historic period rooms. Each painting is beautifully reproduced and accompanied by a room history summary written by Bayou Bend staff. Also included: a preface by Gary Tinterow, Museum director; an introduction to Bayou Bend by Bonnie Campbell, Bayou Bend's director; and an illustrated index of plates.
Beginning November 4, the book is available at The Shop at Bayou Bend (6003 Memorial Drive at Westcott) or by phone order at 713.639.1544.