The Armchair Art Fair Autumn/Winter
We are very pleased to let you all know that once again we have teamed up with other galleries to create this special event that you can enjoy at home. Michael, Phil and I are hoping that you will be browsing pages 28-37 that feature The Hunt Gallery. Please contact me if anything interests you. Click this link to view the catalogue online – https://issuu.com/jammdesign/docs/aaf-003_fullproof_01?fr=sNDg2ODMzNDQ0OU
We are exhibiting at The Games Fair from the 29th – 31st of July at the LAPADA Pavilion at Ragley Hall. With this in mind, we are delighted to have been featured within this spring edition of The Games Fair magazine.

Learn how Michael came to be the respected English figurative painter he is today and why he is so interested in history…
'He Depicts Rooms As We Think We Experience Them, But He Provides Much More Information Than We Could Ever Absorb In A Glance'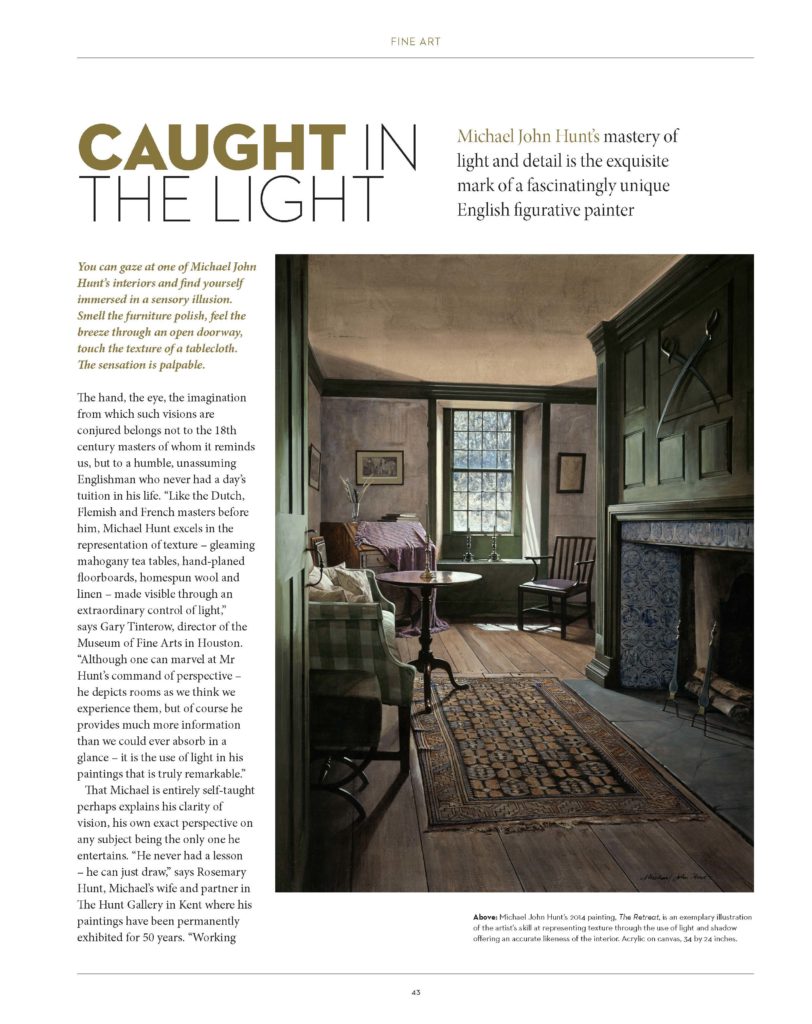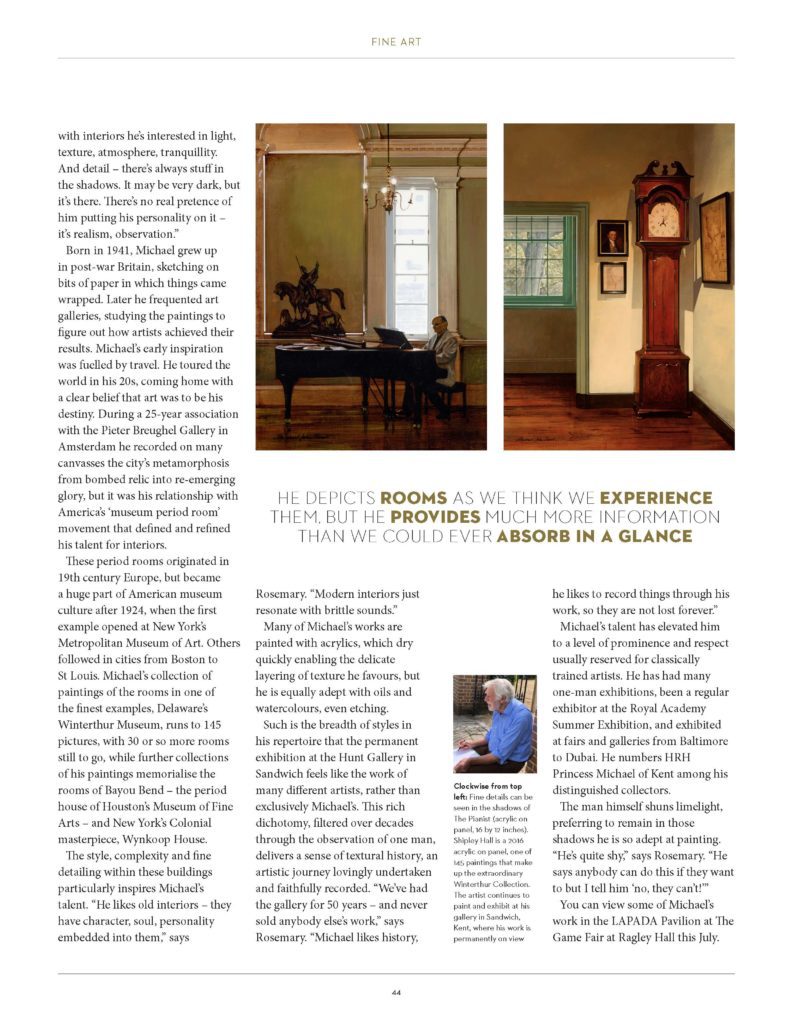 As this is the first Newsletter of 2022, I hope I'm not too late to wish you all a Happy New Year. We have a busy few months ahead of us and as our planned exhibitions are in the spring and summer, we are hopeful of meeting you somewhere along the way.
Our first exhibition is the Winter Armchair Art Fair and we are very pleased to let you all know that once again we have teamed up with other galleries to create this special event that you can enjoy at home. It is live on our website and Michael, Phil and I are hoping that you will be browsing pages 96-105 that feature The Hunt Gallery. Please contact me if anything takes your fancy.. Or click this link to view the catalogue online https://issuu.com/jammdesign/docs/aaf-003_fullproof_01?fr=sNDg2ODMzNDQ0OTU
March 23rd – 27th will once again see us in The Old Town Hall, Chelsea, London, showing Michael's latest paintings. We had such a good time last September that we are looking forward to being there again. The quality of the exhibition was outstanding and if you didn't see it then, I highly recommend it.
Download Tickets Here
If you look at the Events page on our website, you will see that we will be returning to Petworth Park in May, Olympia in June and the LAPADA Pavilion at the Game Fair at the end of July.
Let's all look forward to spring,
Best,
Rosermary
NEWSLETTER: We have two exciting pieces of information to impart in this newsletter.
Click Here to View
The Hunt Gallery Prints
We now have a new range of contemporary landscapes, wildlife, whimsy and architectural prints available on our new print website:
Paintings of Bayou Bend's Interiors
Twenty-two paintings by English artist Michael John Hunt featuring Bayou Bend's historic interiors are on view at the Lora Jean Kilroy Visitor and Education Center. Created over two years, the paintings are meticulously detailed architectural portraits, striking for their intuitive understanding of perspective and evocative use of texture and natural light.
Twelve of the paintings are included in a limited-edition series of signed and numbered prints, available at The Shop at Bayou Bend. Also available is an elegantly designed, oversized book, limited to 1,000 copies, that illustrates the Bayou Bend paintings in rich colors.
Michael John Hunt Show at Bayou Bend
The Prints
Exclusive Limited-Edition Prints of Bayou Bend Interiors
A set of 12 limited-edition, fine-art prints that exquisitely capture Bayou Bend's elegant interiors are available at The Shop at Bayou Bend. The prints are reproductions of original paintings by English artist Michael John Hunt. Each interior is a meticulously detailed architectural portrait, striking for the evocative use of natural light. The 12 views are now complete, available for purchase at The Shop.
Details
$250 each | $3,000 for the set of 12
Printed in England by the Hunt Gallery
Limited to 150 copies of each view
Most views approximately 16″ x 23″ paper size
Hand-signed and numbered by the artist
Accompanied by a Certificate of Authenticity
The Book
Michael John Hunt: Historic Rooms of Bayou Bend
Published by The Hunt Gallery, September 2014
Hardcover, 64 pages
Color, fully illustrated, 13 ¼" x 10″
Edition of 1,000
$39.95
The book features all 22 views that the artist Michael John Hunt painted of Bayou Bend's historic period rooms. Each painting is beautifully reproduced and accompanied by a room history summary written by Bayou Bend staff. Also included: a preface by Gary Tinterow, Museum director; an introduction to Bayou Bend by Bonnie Campbell, Bayou Bend's director; and an illustrated index of plates.
Beginning November 4, the book is available at The Shop at Bayou Bend (6003 Memorial Drive at Westcott) or by phone order at 713.639.1544.
About the Artist
Michael John Hunt was born in 1941 and is an English figurative painter and etcher. Primarily a topographical artist with a natural ease of draftsmanship that enables him to capture the essential details he needs for his paintings, Hunthas developed his own particular and distinctive style. Having exhibited at the Royal Academy six times as well as at the Paris Salon (Silver Medal) in 1976, he was approached by the Kunsthandel Pieter Breughel in Amsterdam (then owned by the family Noldus), and received many commissions and one-man exhibitions in Amsterdam over a period of 35 years. Mr. Hunt's wife Rosemary is the curator of The Hunt Gallery, in Sandwich, Kent, where there is a permanent collection of his work.
A selection of Hunt's interior paintings have been exhibited in the Society of Winterthur Fellows Gallery at Winterthur Museum as well as at the American Museum in Britain. A series of paintings of Bayou Bend interiors is on display at Bayou Bend's Lora Jean Kilroy Visitor and Education Center from November 4 through December 31, 2014.
Historic Rooms of Bayou Bend
The paintings by
Michael John Hunt
were on display at the
Lora Jean Kilroy Center
Bayou Bend, Houston, Texas
on 3 November 2014 through Christmas.
View at
www.mfah.org/visit/bayou-bend-collection-and-gardens/